2023.11.10Pop up
Nao Kitamura Solo Exhibition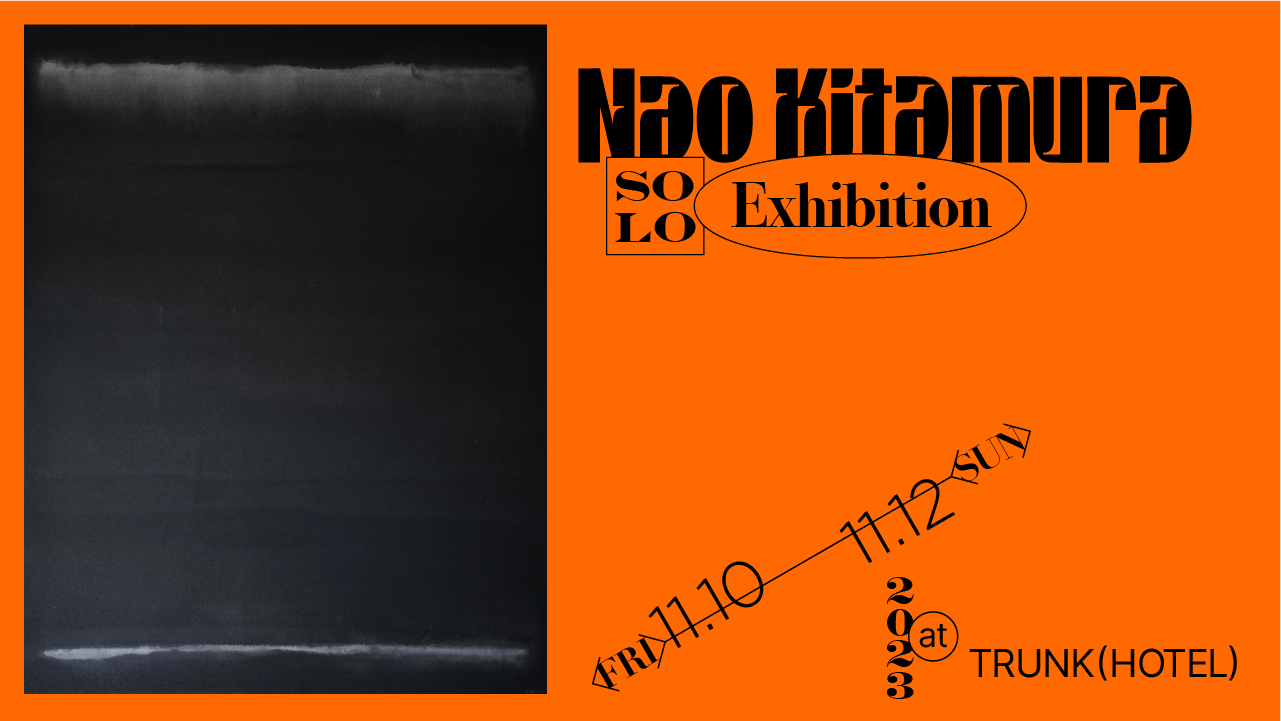 Nao Kitamura Solo Exhibition
2023.11.10fri-11.12sun
10:00-close
at TRUNK(HOTEL) ROOM101
日々の生活や周囲の状況に対し感じた疑問や不自然さ。
その「違和感」を認識し、否定せず、新たな問いかけを生み、常に前進し続ける「違和感」という名の原動力を無視してはいけない。
Nao Kitamura: 東京を拠点に活動。彼女は古典の技法を踏まえつつ、独自の視点から文化的歴史を再考し和紙、墨、顔料などを駆使して抽象的な表現を追求している。彼女の作品は完璧さを追求するのではない。むしろ不完全さや不確かさが人間の本質を映し出すものであり、不完全であることこそが究極のリアリズムだと確信している。これまでに書道で培った線や余白、滲みなどを「字」という形から解放し画面いっぱいに表現する。形を無くし境界線を曖味にすることにより、鑑賞者を次示や時間という概念を超越した領域へと誘う。
Based in Tokyo, she incorporates classical techniques while reexamining cultural history from a unique perspective. She utilizes materials like washi paper, ink, and pigments to pursue abstract expressions. Her artworks do not strive for perfection; rather, she embraces imperfections and uncertainties as reflections of human essence, believing that imperfection is the ultimate realism. She liberates the lines and the art of blank space she has cultivated over the years from the conventional 'characters' and expresses them across the entire canvas. By erasing forms and blurring boundaries, she leads the audience into a realm that transcends concepts like dimensions and time.
Instagram : @nao.ktmr
このサイトはスマートフォンの
画面を立ててご覧ください
CLOSE
Go To トラベルキャンペーンについて
(2021年1/8現在)
現在、政府の緊急事態宣言に伴い、GoToトラベルを一時停止しております。
詳細はGo Toトラベル事務局公式サイトにてご確認ください。
公式サイト
About Go To Travel
( As of January 15th )
In light of the COVID-19 pandemic, we suspend "Go To Travel" by following the state of emergency from government mandates.
Please make sure to check the official website from Go To Travel office in details.
Click here for the STAY NAVI
TRUNK(KUSHI)
席予約
HOURS OF OPERATION
最新の営業時間はこちらをご覧ください
Please check here for the latest information.
ADDRESS
5-31 Jingumae Shibuya-ku Tokyo 150-0001 JAPAN
PHONE
03-5766-3205
(P.M. 1:00 〜 P.M. 11:00)
ご予約はお電話にて承っております。
For reservation, please call us at

※混雑時2時間制とさせて頂きます。
※メニューの内容は予告なしに変更する場合がございます
*Every table are 2 hours available.
*Menus are subject to change without notice.
座席予約 / Reservation