Event Closed
2017.12.22 Fri - 2017.12.29 Fri
2017.12.22~ mick park's art exhibition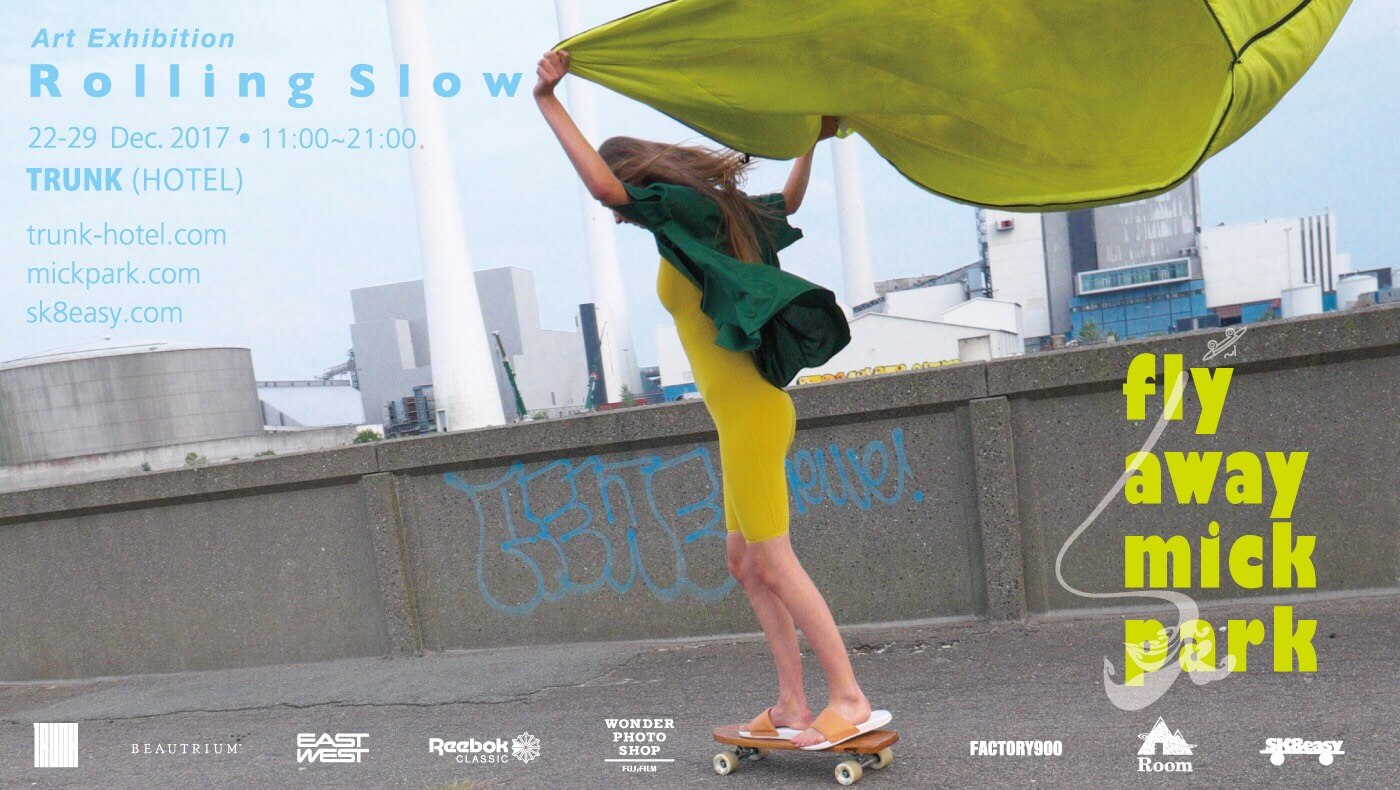 Art Exhibition "Rolling Slow "
fly away mick park
Date: 12/22 (Fri) - 12/29 (Fri)
Time: 11:00 - 21:00

写真家mick parkが創る新たなスケートボードの世界。
貴重な天然木の一枚板に彫刻を施し、写真を焼付けた芸術作品。
mick parkが撮り下ろした写真作品も同時に展示

mick park
Born in Tokyo 1961,
Mick Park studied sculpture at Cabrillo College in Santa Cruz California
and after graduating college moved to New York for a year.

Returning to Tokyo, he began his photo career at Fashion News Studio,
assisting William Klein, Elsken, Pamela Hanson, Herb Ritts and many more.
Mick has been a freelance photographer since 1989
and focuses on documentary image.

SK8easy by mickpark
Concept
Makes skateboard parts of your life.Friendly to human & nature.Also has a valuable design.SK8easy was born for grown-ups with strong passion for skateboarding.
Rolling Slow
Have the same feelings while on a skateboard as if you`re on a surfboard.
Ride skateboard on the fresh wood with bare foot.
With a little push,cruise smoothly without limits on a native wood that catches messages
from the ground directly to the rider.
You would be amazed with this new sensation, but for some reason it makes you feel nostalgic.
After you skate with SK8easy skateboard, you will become part of the skateboarding lifestyle.
You can store it in the 'House*' to complete a perfect art work.
Your favorite skateboards will create blissful moments while looking at the beautiful art work.
*:What skateboard hanger® 'House' is, all this time, people disposed exterior frames,
but with SK8easy skateboards, it`ll complete it`s art work.
A work of art, you can enjoy.