Event Closed
2023.11.18 Sat - 2023.11.19 Sun
ABODE OF SNOW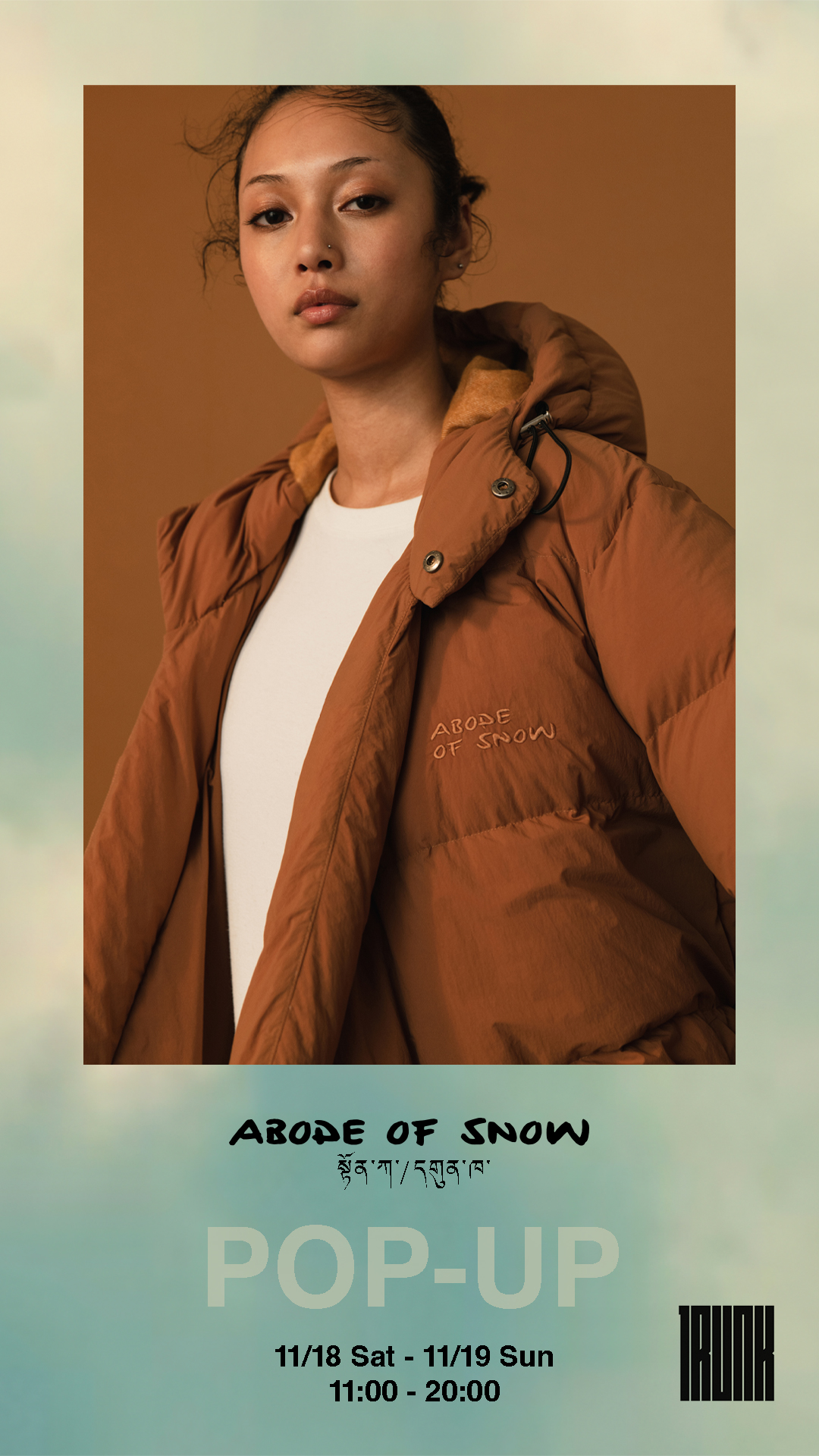 ABODE OF SNOW
In the Himalayas, outerwear forms an integral part of the daily uniform.
ABODE OF SNOW, referencing the English translation of 'Himalaya,' was founded by Tenzin Wild and Tao Okamoto as a platform for the stories of the Himalayas, its people, and its rich culture, through modernizing traditional practices in the creation of contemporary outerwear. ABODE OF SNOW exists as an homage to all those with ancestry from the beautiful, mountainous region.
Our products are made from 100% recycled materials, organic fabrics, 100% recycled down & feathers, and yak wool. We are proud of what we have achieved so far, and will keep improving our practices to protect our environment.
ABODE OF SNOW donates a portion of its sales to the Himalayan Cataract project.
Globally, 43 million people are blind -80% of which is treatable or preventable. 17 million people are blind due to untreated cataracts alone, a condition that can be cured with a ten-minute surgery and under $25 in material costs.

標高の高いヒマラヤ山脈では、アウターウェアは欠かすことの出来ない毎日のユニフォーム。ABODE OF SNOW(アボード・オブ・スノウ)は、「雪の棲家」すなわちヒマラヤ山脈を意味します。彼らの伝統的、民族的なアウターウェアを近代的な形に表すことによって、美しい山岳地帯の祖先を持つすべての人々へのオマージュを表現し、色彩豊かに暮らすこの独特の文化とコミュニティーの物語を伝えるべく、Tenzin Wildと岡本多緒大妻によって設立されました。
私たちは、再生繊維やオーガニック素材をはじめ、100%リサイクルのダウン&フェザ一、生産過程での動物虐待を含まないヤクウールや植物性の中綿カポックなどを使用しています。私たちはこれまで達成したことを誇りに思いながらも現状に満足せず、環境や生態系を守るためにより良いものづくりを目指しています。
標高の高いヒマラヤ山脈の地域では、白内障により失明する人がとても多い事実があります。白内障は10分の手術と25ドル以下の材料費で治療することができますが、毎年1700万人が未治療の自内障で失明してしまっています。
私共は売上の一部をヒマラヤ白内障プロジェクトに寄付しています。