Event Closed
2023.10.06 Fri - 2023.10.07 Sat
BEYOND THE PINES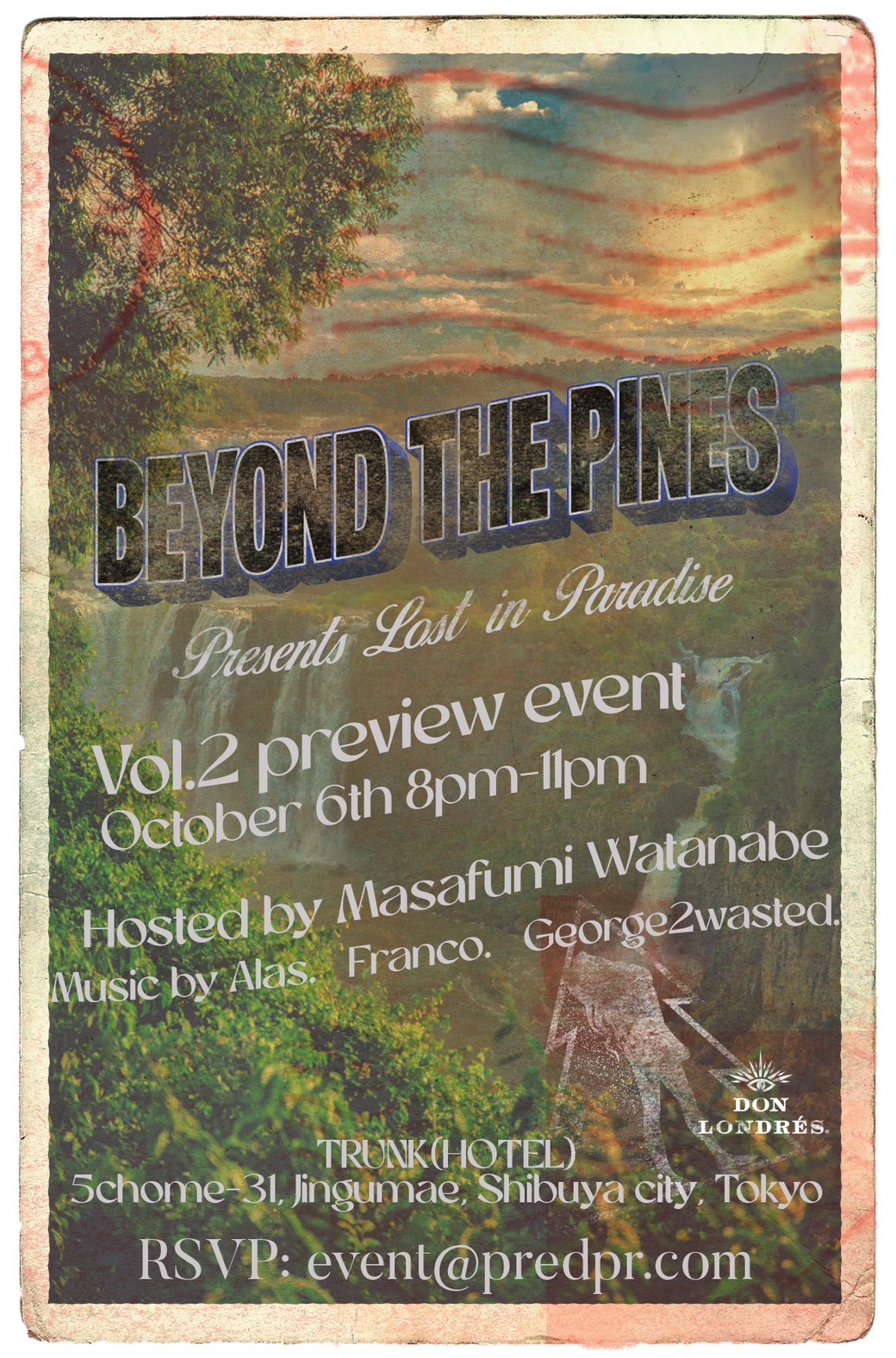 ■ 開催期間 Date
2023.10/6 (Fri) - 10/7 (Sat)
■ 開催時間 Time
11:00 - 20:00
■会場 Location
TRUNK(HOTEL) 内 ROOM101
(渋谷駅より徒歩6分)
〒150-0001 東京都渋谷区神宮前5-31 TRUNK(HOTEL)
[BEYOND THE PINES]
MAT ABAD IS A FASHION AND COMMERCIAL PHOTOGRAPHER. CO-FOUNDER OF KARMAGAWA, SAVE THE REEF AND BEYOND THE PINES. BORN AND RAISED IN THE PHILIPPINES. IN 2014, HE STARTED CHANNELING HIS CREATIVITY INTO PHOTOGRAPHY AND ROSE QUICKLY THROUGH THE RANKS DUE TO HIS UNIQUE AESTHETIC AND NATURAL TALENT, THUS BEGINNING HIS LIFE'S WORK - AN ODYSSEY BEHIND THE LENS.
BTP is an art community created by photographer Mattheau Abad which focuses on showcasing the beauty of the world while also helping local communities in need with donations funded via the sale of digital and print art.
This event is the launch of BTP Volume 2 "LOST IN PARADISE" and was shot over the past year in Bali, Brazil, Philippines, Hawaii, Greece and Italy — 50% of the proceeds from this art will be donated to The Karmagawa Foundation to plant trees and provide food and education to those in need in several of the communities where BTP Volume 2 was shot.
Karmagawa is a 501c3 charity community founded by Mattheau Abad and stock trader Tim Sykes, which now has over 2 million social media followers. Literally translated as "to do or make good karma," Karmagawa is dedicated to giving back through a variety of organizations including food banks like Houston Food Bank, World Central Kitchen, school builders like Pencils of Promise, The Cambodian Village Fund & Bali Children's Project, and animal rescue charities like Sheldrick Wildlife Trust, Rancho Relaxo and many others. In just 5 years, they have built 115 schools, libraries and computer labs for underprivileged youth, helped rescue thousands of animals globally, and have served over 1 million meals to families in need. In total, Karmagawa has donated more than $8 million to charities to date while also producing two eye-opening documentaries about the rhino poaching crisis and SaveTheReef on the coral reef crisis and has spent the past 2 years in production on a third documentary about the critical need for eduction.