Event Closed
2022.04.01 Fri - 2022.04.03 Sun
HUGO YOSHIKAWA SOLO EXHIBITION "PLANT NARRATIVE"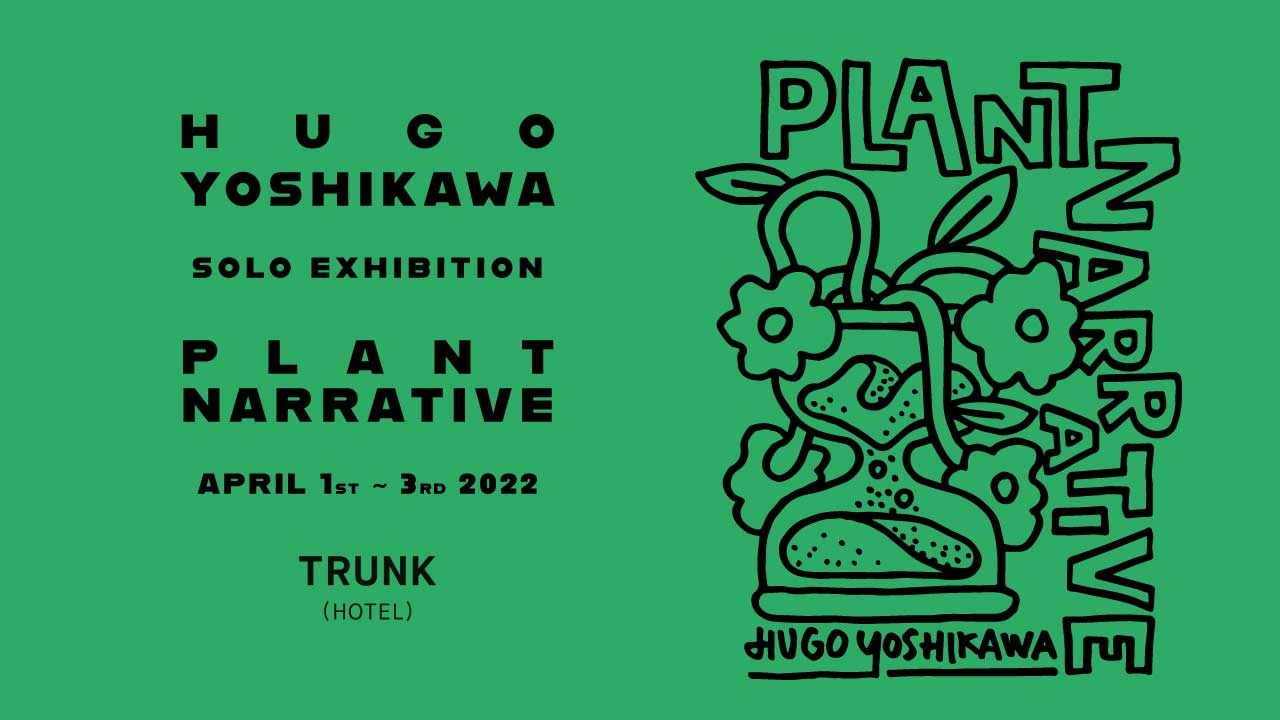 HUGO YOSHIKAWA SOLO EXHIBITION "PLANT NARRATIVE"
Date: 2022.4.1 (Fri) - 4.3 (Sun)
Time: 11:00-20:00
本展覧会では吉川有悟の2022年新作を発表いたします。
シブヤ・アロープロジェクトの壁画作品と同様のテーマ『アウトドア・リビング』を基に大作から小さなペインティングシリーズまで、この機会のために制作しました。3日間限りの個展となります。
HUGO YOSHIKAWA
1986年東京生まれ。日本人の父とフランス人の母を持つ。 幼年期から10代の大半をロンドン、パリ、東京、バンコク、ニューヨークで過ごす。 バンコク滞在中に母が買ってくれた冒険漫画『スピルーとファンタジオ』をきっかけに「バンド・デシネ」と 呼ばれるフランス語圏のマンガと出会い、その高い芸術性に感銘し、10歳のときに将来は絵の道に進むと 決意。ロンドン芸術大学でイラストを専攻。卒業後、マドリードと東京でキャリアのスタートを切った後 ロンドンに戻り、イラスト、マンガ、ドローイングの垣根を越えた創作活動を展開。 その後バルセロナに本拠を移し、アーティストとして、独自のスタイルで書籍や印刷物、ハンド ドローイングやアニメーションなど多岐の分野にわたり活躍中。

_______________________________________________________________________
A solo exhibition to present Hugo Yoshikawa's newest body of works ranging from small scale paintings to large canvas pieces.
Works were specially created for this occasion, reflecting the same outdoor living theme of his recent public art paintings (as part of the Shibuya Arrow Project).
HUGO YOSHIKAWA
French-Japanese illustrator Hugo Yoshikawa was born in Tokyo and grew up in many countries growing up - from Bangkok, London, Paris and New York. After graduating from the University of the Arts London, he worked in ad agencies in Madrid and Tokyo before focusing on drawing and illustration full time. He now lives in Barcelona after a long time in London and works in illustrations and animations along his paintings. Hugo has exhibited around the world in many galleries in countries such as the US, France, London, Spain, Switzerland and Japan.
https://www.hugoyoshikawa.com/