Event Closed
2019.11.02 Sat - 2019.11.06 Wed
LOOK CLOSE LOOK FAR Johnna Slaby Solo Exhibition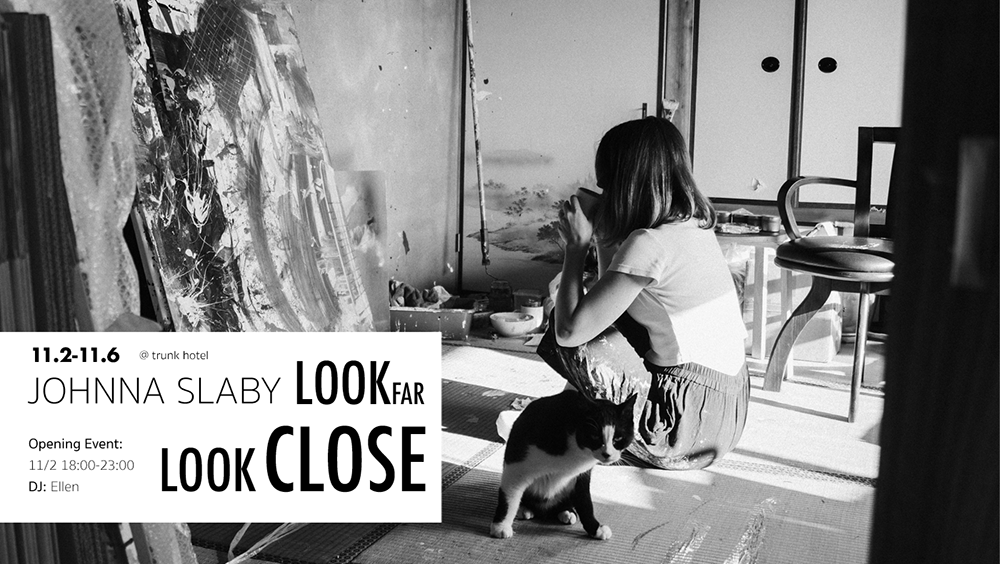 LOOK CLOSE LOOK FAR Johnna Slaby Solo Exhibition
OPENING PARTY
Date: 2019.11.2 (Sat)
Time: 18:00 - 23:00
DJ: Ellen
EXHIBITION DATES: 2019.11.2 (Sat) - 11.6 (Wed)

Exhibition featuring Johnna Slaby, an abstract painter from Osaka, Japan.
Join her at Look Close Look Far, an exhibit of works on paper and canvas that incorporate text, gestural marks and imagery from a day in the life.
Johnna works to mirror her own experiences and the elements she finds in her surroundings through the current series.
Through the work there is an emphasis on how stories can be unfolded by both stepping back and taking a closer look; whether that be observing how morning light that enters the room, glancing up at the commuters on the train, or examining serendipitous moments in an everyday.
スレイビージャナ 日本出身のアーティスト。元来ミュージシャンを志すも、18歳の時、アバンスケッチングに出会い水彩の色に感動し刺激を受ける。スレイビージャナ 日本出身のアーティスト。
2014年にアクリルを使い始め、抽象画には色、筆使い、触れた時の感触、様々の感情、感じたことのない好奇心など普段感じない感情や会話の源があると発見する。現在、国内のコーヒーショップから使用済みの粉をもらい、人生や繋がりなどのテーマを絵画で表現している。
Website: www.johnnaslaby.com
Instagram: www.instagram.com/johnnaslaby

DJ ELLEN
After a move to Tokyo, Ellen performed at various festivals and nightclubs and discovered a passion for Underground Music.
During her career, she played at one of the biggest underground music festivals in Japan, Audio Haçienda festival amongst renowned artists such as Peter Hook, Nina Kraviz, Ken Ishi, Carl Craig, Radio Slave and others. She loves to mix new ideas, rhythms and frequencies in her sets and productions to further grow the underground scene in Japan.
日本一を誇るunderground music フェス、Audio Haçienda festivalにてPeter Hook, Nina Kraviz, Ken Ishi, Carl Craig, Radio Slaveと共に共演した。
また彼女は西麻布にあるクラブBerg and West(元Yellow)にて独自のパーティーを主催した。彼女は常に新しい考え、リズム、周波数を加えたセットをミックスするの好きであり、客を虜にさせる。
https://instagram.com/angelucciellen