Event Closed
2019.10.22 Tue - 2019.10.25 Fri
ZUBROWKA DAY 2019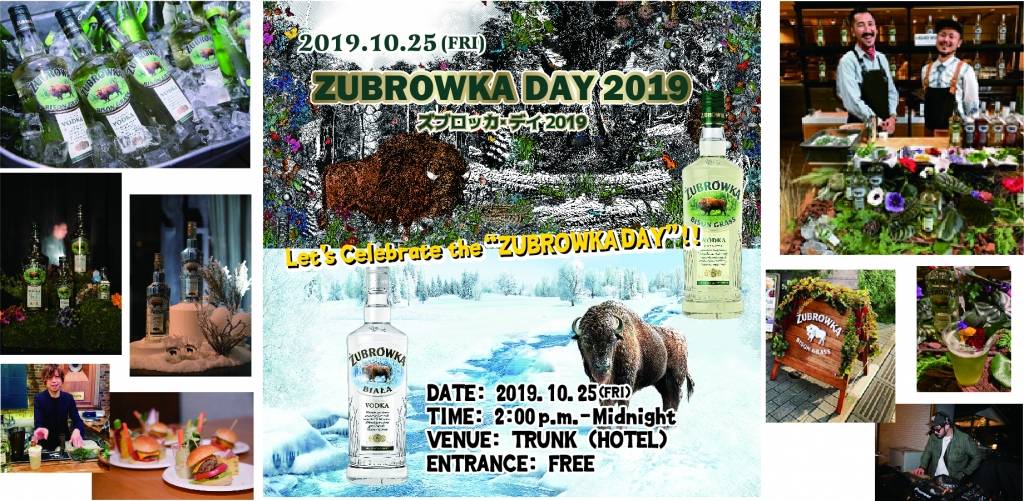 ZUBROWKA DAY 2019
POPUP Date: 2019.10.22 (Tue) - 10.25 (Fri)
Time: 9:00 - 23:00
PARTY Date: 2019.10.25 (Fri)
Time: 14:00 - 24:00
FREE ENTRANCE

DJs:
DJ Mitsu the Beats (GAGLE/Jazzy Sport)
DJ Mu-R (GAGLE/Jazzy Sport/Proceed Music Store)

Come and celebrate "Zubrowka Day" with us!!!
Zubrowka is a Polish vodka, which characteristically contains a bison grass blade in every bottle that's sourced from the Bialowieza Forest. October 26 is the official "Zubrowka Day" in Japan. We're celebrating this day to enjoy and share the world of Zubrowka with you! It's the second year of holding these celebrations, and this year the party is thrown on Friday, October 25: "Zubrowka Day Eve."
The venue will be at TRUNK (HOTEL) which is renowned internationally for its great branding and hospitality. A global Zubrowka brand ambassador, Przemysław Matuszewski, will join the event from Poland to give a seminar on the brand and make unique cocktails with Zubrowka.
Specially created Zubrowka cocktails will be also served by the bartenders of TRUNK (BAR) and Keita Saito of LIQUID WORKS. If you'd like to get more hands-on, a cocktail workshop will be held by LIQUID WORKS, where you can create your own Zubrowka cocktails with their specially prepared infused bottles, your choice of mixers, and herbs and flowers to top with.
From 8 pm onwards, two DJs from Japanese hiphop group "GAGLE", DJ Mitsu the Beats and DJ Mu-R will play a live set to kick the evening off. The party will go on until midnight.

今年もやります! ズブロッカをまるごと楽しめる1日限定の体験型イベント
~日本・ポーランド国交樹立100周年記念事業~
https://instytut-polski.org/100th/
ポーランドのフレーバードウオッカ「ズブロッカ」を楽しむ記念日
「ズブロッカの日」=10(ジュ)月26(ブル)日
(ジュブルとは、ポーランド語でバイソンの意)
を今年も祝うべく、一般向け体験型イベント「ズブロッカ・デイ2019」を
記念日イブの2019年10月25日(金)に開催します。

今回もポーランドから来日するグローバルブランドアンバサダーが、楽しいセミナーを開催。
バーでは「ズブロッカ」を使ったオリジナルカクテルが楽しめます。
日中は気持ちの良いテラスで「LIQUID WORKS」による、ハーブやボタニカルを使ったオリジナルカクテルが作れるワークショップでカクテル体験。
夜はヒップホップユニットGAGLE のメンバー2名によるLIVE DJ MIXと、盛りだくさんの一日です。
DJ Mitsu the Beats (GAGLE/Jazzy Sport) :ビートメイカー、DJ、プロデューサー、リミキサー。2003年にソロアルバム「New Awakening」をリリース。2004年L.A『URB』誌で「期待するアーティスト100人」に日本人で唯一選出された。2014年世界クラブミュージック動画配信メディア「Boiler Room」で異例の50万回以上の再生数を記録。2018年GAGLE6枚目のアルバム「VANTA BLACK」をリリース。目下新たなソロアルバム"ALL THIS LOVE"が準備されている。
DJ Mu-R (GAGLE / Jazzy Sport / Proceed Music Store) :自分の原点(90's HIP HOP)を大切にしつつ、ジャズ、ソウル、ファンクなどのルーツミュージック~ハウス、テクノ等、幅広いジャンルを取り入れながらも、唯一無二の研ぎ澄まされた世界感を構築するプレイスタイル。切れと深みを併せ持つスクラッチ、LIVE DJとして魅せる確固たるステージングスキルも評価が高い。LIVE MIXに拘ったMIX作品を定期的にリリース。地元仙台を中心に2005年から行われているDJパーティー 『Sound Maneuvers』主宰。2018年11月自身が店主を務める『Proceed Music Store』を仙台にオープンした。
https://twitter.com/DJMu_R
http://www.facebook.com/miura.koichi