Event Closed
2019.05.25 Sat - 2019.05.26 Sun
The Rolling Stones × TOKYO GIANTS COLLABORATION POPUP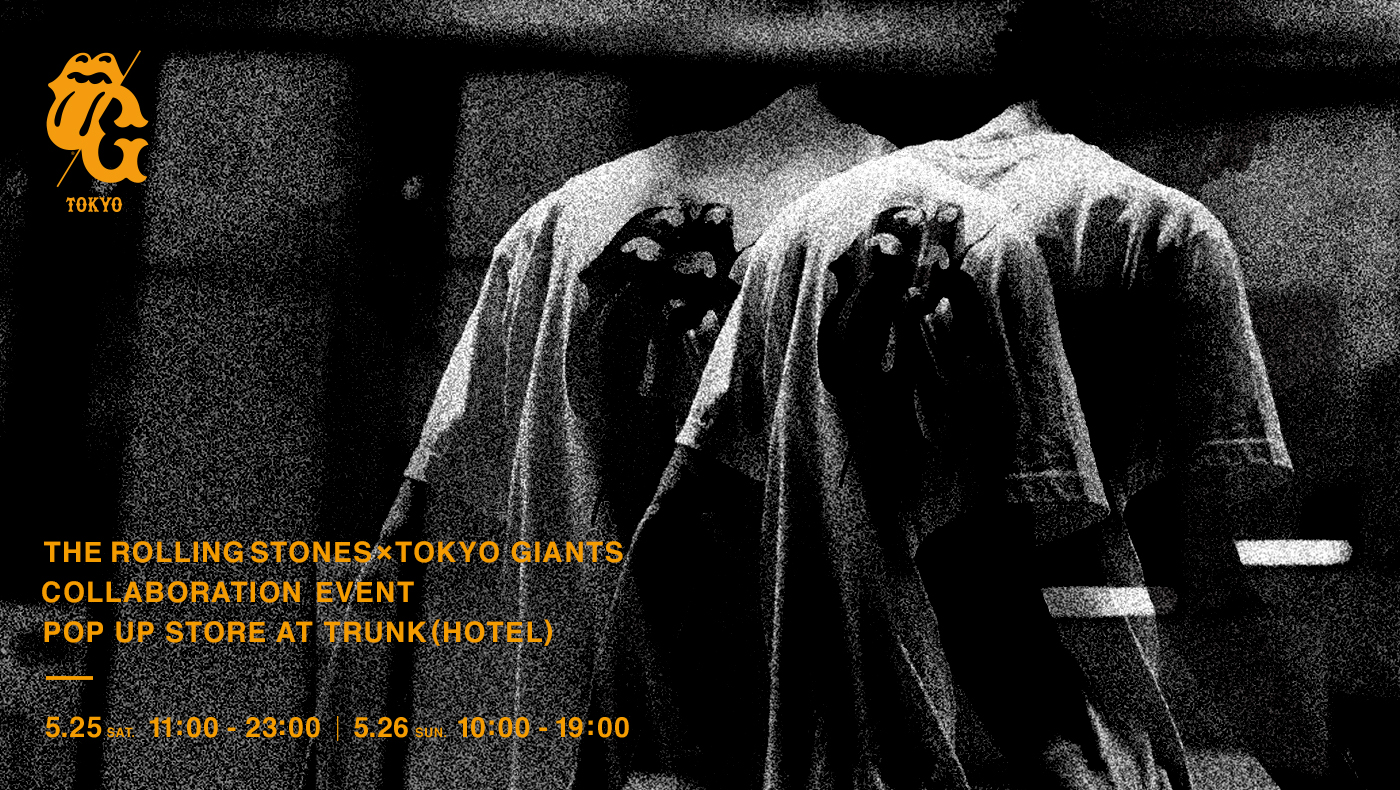 TOKYO GIANTS × The Rolling Stones COLLABORATION POPUP
Date: 2019.5.25 (Sat) – 5.26 (Sun)
Time: 5.25 (Sat) 11:00 - 23:00 ・ 5.26 (Sun) 10:00 - 19:00

1962年の結成以来長く世界の音楽シーンをリードしてきた『 ザ・ローリング・ストーンズ 』と、読売巨人軍のコラボGOODS販売を記念したイベントを、TRUNK(HOTEL)にて開催いたします。
ホテル内ラウンジでは、ザ・ローリング・ストーンズらの曲をセレクトし、5/25(Sat)のイベントではバーカウンターにて本イベントを記念したオリジナルカクテルもお楽しみいただけます。この機会に是非お越しください。
このサイトはスマートフォンの
画面を立ててご覧ください
CLOSE
Go To トラベルキャンペーンについて
(2021年1/8現在)
現在、政府の緊急事態宣言に伴い、GoToトラベルを一時停止しております。
詳細はGo Toトラベル事務局公式サイトにてご確認ください。
公式サイト
About Go To Travel
( As of January 15th )
In light of the COVID-19 pandemic, we suspend "Go To Travel" by following the state of emergency from government mandates.
Please make sure to check the official website from Go To Travel office in details.
Click here for the STAY NAVI
TRUNK(KUSHI)
席予約
HOURS OF OPERATION
最新の営業時間はこちらをご覧ください
Please check here for the latest information.
ADDRESS
5-31 Jingumae Shibuya-ku Tokyo 150-0001 JAPAN
PHONE
03-5766-3205
(P.M. 1:00 〜 P.M. 11:00)
ご予約はお電話にて承っております。
For reservation, please call us at

※混雑時2時間制とさせて頂きます。
※メニューの内容は予告なしに変更する場合がございます
*Every table are 2 hours available.
*Menus are subject to change without notice.
座席予約 / Reservation