Event Closed
2019.03.09 Sat
TOKYO SLEEP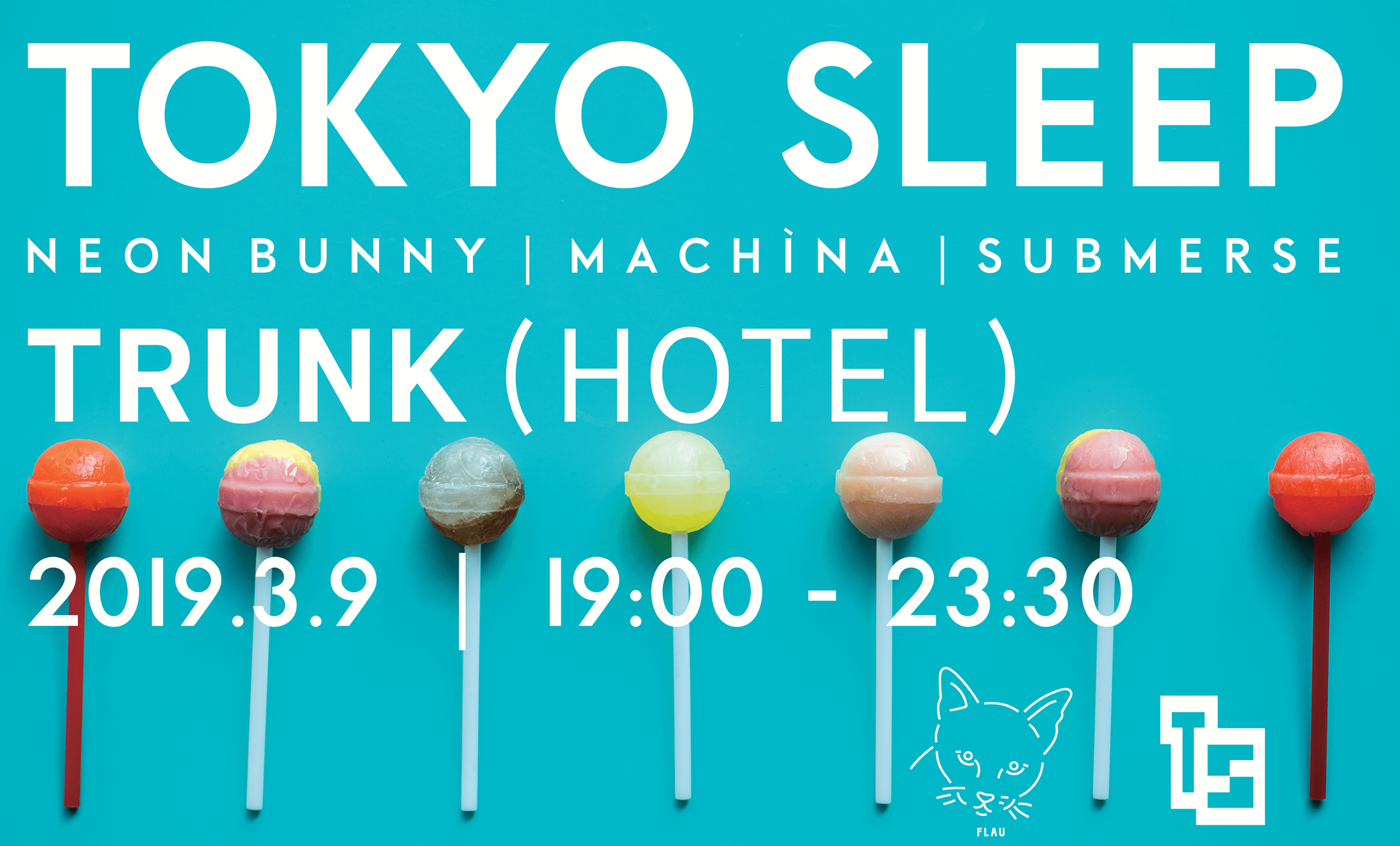 TOKYO SLEEP
Date: 2019.3.9 (Sat)
Time: 19:00 - 23:30
Free Entry

ニューヨークからファッションとミュージックイベントをライフスタイルとして発信する新しいブランド、TOKYO SLEEPのプロデュースでお送りするライブミュージックパーティー。
グローバルでスタイリッシュな時間を楽しんでいただけます。

Neon Bunny
Submerse
Machina
Hiyes Imgood

Submerse (Flau artist)
イギリス出身のSubmerseは超個人的な影響を独自のセンスで消化し、ビートミュージック、ヒップホップ、エレクトロニカを縦横無尽に横断するユニークなスタイルを持つDJ/ビートメーカーとして知られている。
Hailing from England, Submerse is an esteemed beatmaker and producer with a distinct and recognizable sound that traverses Beats, Instrumental Hip Hop and Electronica whilst being punctuated by a myriad of unique and personal influences.
Machìna
大学でジャズを専攻、そしてK-pop シンガーとして活動した後にエレクトロニック・ミュージックに転向。詩的な感覚のボーカルとモジュラーシステムによって作成されたアナログサウンドによって、Machìna (マキーナ)の音楽は、テクノロジーと時間、そして感情のハーモニーを模索する。
After studying music (focusing on jazz), then a brief stint as K-pop singer, she started exploring the world of electronic music. Fusing lyrical live vocals with analogue sounds created by modular systems, machìna's music has sought to pursue a harmony between layers of technology, time and emotion.

Neon Bunny (Flau artist)
2011年にアルバム『Seoulight』でデビューし、2012年にベストポップアルバム賞を受賞した韓国・ソウル発のベッドルーム・ポップ・シンガー。2014年にはMTV IggyのArtist of the Weekに、またアルバム「Stay Gold」から先駆けて公開されたシングル「It's You」がPitchforkの「20 Essential K-Pop Songs」に選出されるなど、欧米からの注目も非常に高い。アメリカの人気プロデューサーMark ReditoのプロジェクトSpazzkidと共演したシングル「Daytime Disco」がStaRo、Kero Kero Bonitoのリミックスと共に話題となる中、ニューアルバム「Stay Gold」を発表。
Im Yu-Jin aka Neon Bunny – Is a South Korean Indie singer and a songwriter. She debuted as a solo artist with her album Seoulight, winning her the award for Best Pop Album in 2012 in Korea.
このサイトはスマートフォンの
画面を立ててご覧ください
CLOSE
Go To トラベルキャンペーンについて
(2021年1/8現在)
現在、政府の緊急事態宣言に伴い、GoToトラベルを一時停止しております。
詳細はGo Toトラベル事務局公式サイトにてご確認ください。
公式サイト
About Go To Travel
( As of January 15th )
In light of the COVID-19 pandemic, we suspend "Go To Travel" by following the state of emergency from government mandates.
Please make sure to check the official website from Go To Travel office in details.
Click here for the STAY NAVI
TRUNK(KUSHI)
席予約
HOURS OF OPERATION
最新の営業時間はこちらをご覧ください
Please check here for the latest information.
ADDRESS
5-31 Jingumae Shibuya-ku Tokyo 150-0001 JAPAN
PHONE
03-5766-3205
(P.M. 1:00 〜 P.M. 11:00)
ご予約はお電話にて承っております。
For reservation, please call us at

※混雑時2時間制とさせて頂きます。
※メニューの内容は予告なしに変更する場合がございます
*Every table are 2 hours available.
*Menus are subject to change without notice.
座席予約 / Reservation